Ready to straighten your smile? Cape Vista Dental wants to help your smile to reach its ultimate potential, and not just aesthetically! Our team understands that misaligned bites and crooked teeth can often cause unnecessary difficulty in everyday life.
That's where Invisalign® comes in — Invisalign is a trusted orthodontic system that has been used for decades to provide discreet treatment, lasting results, and straighter, more confident smiles.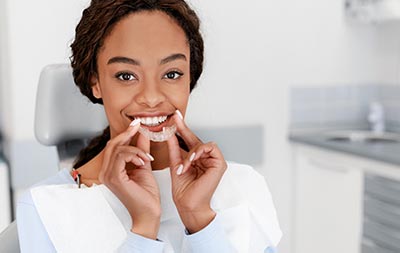 At Cape Vista Dental, we utilize top technologies to facilitate your smile results. At your Invisalign consultation, we'll use a high-tech digital scanner to scan the teeth into precise 3D models. This means we'll never need to take traditional impressions using the sticky, putty-like materials that many patients find uncomfortable. Instead, we'll build a treatment plan based on ultra-effective - and non-invasive - digital technology!
Cape Vista Dental proudly provides the top Invisalign services near Orange City, FL and beyond because every treatment is conducted by a Preferred Invisalign® Provider. When you receive orthodontic treatment from our team, you aren't just receiving it from any Invisalign dentist, but a highly-trained professional who is an expert in a wide range of treatment options!
How Does Invisalign Work?
Invisalign® is a nearly invisible orthodontic system designed to gradually, discreetly straighten the smile. The clear medical polymers used to create the aligners blend right into your smile so effectively that patients may even forget they're there!
With traditional metal braces, wires are tightened to exert pressure on your teeth in certain areas, making them shift to the desired location. Invisalign works in a similar fashion, just without the uncomfortable wires! Instead, the clear aligners fit comfortably over the teeth. While they are designed to be worn throughout the day and night, they are removable to promote effective oral hygiene and more enjoyable mealtimes.
Using our advanced digital imaging technology, we will scan your mouth in order to create multiple sets of custom clear braces that are designed to be swapped out every two weeks. Each pair is specially customized to move your teeth into a more aligned position throughout the progression of your treatment. Patients will often return to our local Orange City, FL office during treatment to allow our Invisalign orthodontist to track their progress and make any adjustments needed.
Is Invisalign Right For Me?
If you suffer from the following orthodontic conditions, you could be a great candidate for Invisalign:
Crooked Teeth
Overbites
Crossbites
Underbites
Gaps Between Teeth
Open Bites
Crowded Teeth
Misshapen Teeth
... and more!
Traditional metal braces aren't the right choice for every patient. Invisalign clear braces are a great alternative that provides the straightening results you need, with the flexibility and comfort you deserve.
At Cape Vista Dental, your Invisalign clear braces will always be custom-shaped to fit your teeth with precision! While worn, the shape of the aligner itself will exert gentle pressure on your teeth. With each new aligner in the series, the pressure will shift more and more until your teeth are in proper alignment.
Your Consultation With Our Invisalign Orthodontist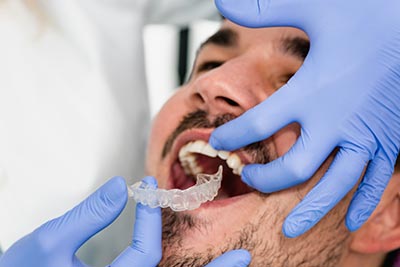 During your consultation, our Invisalign orthodontist will carefully examine your teeth and jaw using our digital x-ray and imaging technologies to determine a correct diagnosis and discover if Invisalign is right for you.
Our team will then take digital impressions of your teeth that will be used to develop your treatment plan. Most patients with mild-to-moderate teeth misalignment will be candidates for Invisalign. However, in the case of severe orthodontic concerns, our team may recommend traditional orthodontics instead.
How Much Does Invisalign Cost?
Your total out-of-pocket Invisalign cost will likely vary depending on the following criteria:
The specific terms of your dental insurance coverage
The length of your Invisalign treatment
If preliminary procedures or treatments must be completed prior to you beginning Invisalign
At Cape Vista Dental, we never want your Invisalign costs to prevent you from the smile-correcting treatment you need. That's why we accept a long list of dental insurance plans. We even offer an in-house dental discount program that can provide deep savings on all our services!
We also accept no-interest and low-interest monthly payment plans through CareCredit®, GreenSky®, and Lending Club® which can be used alone or in conjunction with your insurance.
Questions about your orthodontic treatment costs? We're here for you — just give our office a call!
Experience the Invisalign Difference at Cape Vista Dental!
If you're seeking a straighter smile without the use of metal braces, we're confident that you'll love the Invisalign system! Call Cape Vista Dental today to schedule a consultation with our preferred Invisalign provider.