While our friendly team provides a long list of cosmetic and restorative services, at the core of our practice is quality prevention for the entire family! At Cape Vista Dental, our patients come first in everything we do. For kids, teens, and adult patients, our team strives to go the extra mile to ensure your dental experience is not just a regular exam, but a comfortable, stress-free dental experience you'd gladly repeat. If that means calling on Iron Man to fill in at the office for a day, then so be it!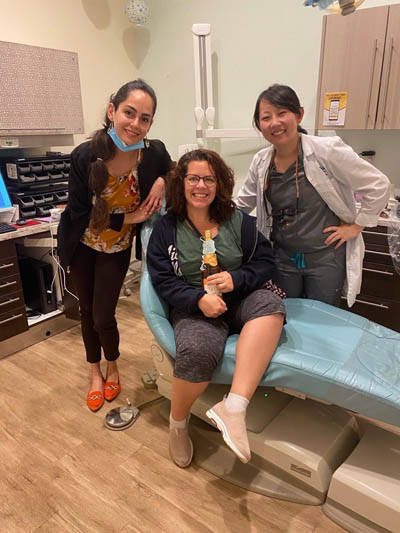 We're proud to serve patients from all over the Orange City area, including Deltona, DeBary, Fort Florida, DeLand, Lake Helen, and Cassadaga, FL. We offer the very best preventive care and dental cleanings near Orange City, FL and beyond, because we invest in the advanced technologies and top-quality treatments that keep you healthy between appointments!
Cape Vista Dental uses 3D digital x-rays, intraoral and extraoral cameras, digital cavity detection, and intraoral scanners to spot potential oral health issues before they have the chance to become more serious problems.
We offer the following preventive care services at our Orange City, FL dental office:
Professional Cleanings (Prophylaxis)
At Cape Vista Dental, we believe the best to deal with diseases and dental problems is head-on — before they can develop into a more serious concern! This is especially important in young children whose teeth still developing. Taking action early on can prevent any number of dental health issues well into the future.
That's why our team commends regular checkups and dental cleanings every six months. With our professional eye on the situation, we're able to spot the early warning signs of dental problems and provide the treatment you need!
At every dental cleaning, our team uses advanced dental tools to provide rapid, comfortable care. Our team works to eradicate unwanted plaque and decay. We'll then polish the teeth to help remove stains and discoloration. If needed, we will administer an additional mineral treatment to further strengthen the teeth.
Oral Cancer Screenings
Diseases and conditions like oral cancer can be treated much more effectively when discovered as early as possible. At Cape Vista Dental, we've invested in state-of-the-art imaging technologies that allow us to detect the signs of oral cancer early on!
Nightguards For TMJ Pain
Did you know teeth grinding while you sleep (bruxism) is a common symptom of temporomandibular disorder? It can contribute to more uncomfortable symptoms like headaches, bite dysfunction, and uneven tooth wear. At Cape Vista Dental, we help our patients fight the effects of bruxism and TMJ with custom night guards. Our custom-crafted oral appliances are designed to help patients correct the problem and preserve their healthy teeth!
Mouthguards For Athletics
Do you play sports? For our patients who are involved in any type of athletics, we believe in investing in mouthguards to help protect their smiles.
Our mouthguards are custom-crafted to be fitted, comfortable and effective for each patient. They provide superior protection of the teeth, including protection against injury and concussions!
Desensitizing Treatments For Sensitive Teeth
Do you have sensitive teeth? Teeth that are sensitive to hot and cold can cause you to avoid certain foods or drinks — even ones you love! Our team has a solution for you in the form of a non-invasive special paste designed to relieve the sensitivity for months. At your consultation, we will assess the cause of the sensitivity and provide recommendations on how to prevent it between your regular visits.
Top Preventive Care & Dental Cleanings in Orange City, FL
No matter how long it's been since your last dental appointment, we'd love to have you join our dental family! At Cape Vista Dental, our preventive cleanings are designed to keep your smile healthy for life. Call us today to schedule your dental cleaning or preventive care appointment.