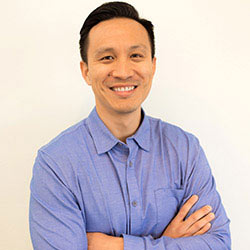 Dr. Andrew S. Yoon
I am a Christian, dad, servant, motivator, and dentist in that order. I love my wife's cooking more than any restaurant. My four kids keep me active and crazy at the same time. On weekends I'm always with my family. I love fishing (mostly offshore), surfing, working out, and trying new experiences! My favorite place in the world is in the Florida Keys. I like country, reggae, techno, pop, and praise music. I am a chameleon, I look Asian (don't speak Korean but I speak Spanish), but deep inside I am multicultural. I'm horrible at basketball.
My favorite story is of a scared child that did so well at the office. I approached his mom after and gave her a few dollars to get ice cream at Chick-fil-A. I shared this same story with one of my favorite patients "Patty." Patty told me, "Dr. Yoon do you know what you need to do? You need to give people ice cream at the office". That day, I bought an ice cream freezer and started giving my patients ice cream after procedures to make them feel better. On the front of the ice cream chest, it reads, "PATTY's ICE CREAM."
"Do the most with what you've got. Hard work beats talent when talent doesn't work hard."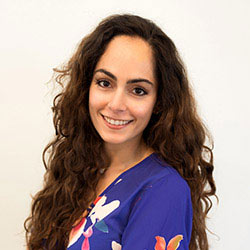 Dr. Joymarie Saavedra
Hello. My name is Dr. Joymarie Saavedra. Or you can call me Dr. 'S'.
Growing up, I was very involved with arts and crafts. My mother really wanted me to pursue a career in art. However, after starting braces at age 7, and orthodontic visits all through high school, I changed my aspirations and pursued dentistry instead. Now, as a busy mom myself, I don't get to do artwork, but I do I enjoy salsa dancing with my husband once in a while – in fact, that's how we met! And, even though my art skills are definitely better than my cooking skills, I enjoy cooking a few things for my family… I'm told I make a delicious flan. On my spare time, I enjoy going for a run and just sitting out at the back porch during a pleasant evening.
I also grew up bilingual (Spanish and English), and I'm glad to be able to use Spanish to connect with more of my patients and ensure their needs are understood and met. To this day, I am very thankful to have chosen a rewarding career in dentistry, in which I can make a positive difference helping my patients. Dentistry has allowed me to combine my love for art and science, as I work to help my patients achieve both health and a beautiful smile.
"Don't stop when you are tired, stop when you are done."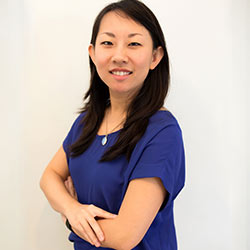 Dr. Julia Sun
Go Gators! I take dentistry seriously, but not myself. You will find me telling corny jokes and laughing with my patients all day. And because I can be a great multi-tasker, I provide high-quality dental care while at it!
I believe in using my skills to help those, especially in need. I have traveled internationally to provide dental care to those without basic access to healthcare. I have also volunteered at the Florida Mission of Mercy, Florida Special Olympics, and community dental clinics. I love hiking, exploring the food scene and reading a good book in my hammock. If I had to pick another job outside of dentistry, I'd be a travel writer (…but maybe minus the writing part).
"What lies behind us and what lies before us are tiny matters compared to what lies within us."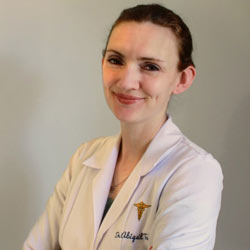 Dr. Abigail Tubio
I wake up every day so fortunate that I get to do what I love, help people in my community! I start the day with this amazing team who are all dedicated to giving the best care to our patients, first and foremost. And I get to help them with the unique combination of science, technology and art that is dentistry, something I have enjoyed every day for the last 14 years.
Any kind of medical treatment can be stressful, and we always make it a priority to help you feel relaxed and comfortable while you're with us during your visit. I also hope you don't mind music, because if the day ends in a "Y", chances are I'm either singing to the radio, or making up my own tunes!
After work, you can find me helping my girl scout troop earn a new badge, or learning and maybe even teaching a new poomsae or sparring skill in our Taekwondo class with my husband and two daughters. Whenever I can squeeze in a few minutes throughout the day, I'm reading to keep up with my book club's 52 book challenge for the year! I come from a long line of educators, so learning new things and sharing that with others, whether it's new dental materials with my team, different badges with my girl scouts or a new kick with the TKD team, keeps me looking forward to a new day, every day, with a smile on my face!
"Being of service to others is what brings true happiness"