At Cape Vista Dental, we understand that missing all or most of your teeth can make life a bit harder. That's why our skilled team offers customized dentures solutions to help patients preserve their smiles!
We're proud to offer the top dentures services near Orange City, FL and beyond, with advanced technologies that create custom-fitted dentures designed to have you biting, chewing, speaking, and smiling as good as new!
Modern dentures have dramatically improved from the traditional dentures of years past. In both comfort and staying power, dentures at Cape Vista Dental are more effective, more stable, and more comfortable. We also have more dentures options than ever before, that are always customized specifically to your needs.
Do I Need Removable Dentures?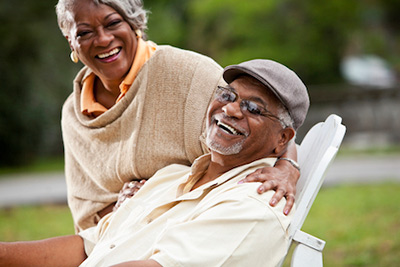 Removable dentures, also known as fake teeth or false teeth, are designed for those missing several teeth, or even all of their teeth.
Patients can lose teeth for many reasons, including trauma, oral injury, decay, or disease. We can build a full or partial set of dentures to fit just the way you need them to. We create both partial and complete custom-fitted dentures designed to fully restore your natural-looking smile!
Complete dentures replace all the teeth on the upper and/or lower arches, while partial dentures are used to replace a handful of missing teeth. Unlike implant dentures, removable dentures can be taken out at bedtime. Modern dentures solutions are more comfortable and secure than ever before — partial dentures sets can even snap in just like a retainer, making them both secure and easy to care for!
Looking for more stability compared to removable dentures? At Cape Vista Dental, we offer implant-retained dentures for a more supportive fit. Implant-supported dentures are sturdy, secure, and just as easy to maintain as any other denture set! Using the power of dental implants, our team can create a prosthesis that snaps into place using a handful of dental implants. Patients often find this option to be a more flexible, affordable alternative to full-mouth dental implants!
How Much Do Removable Dentures Cost?
Your total out-of-pocket dentures costs will mostly depend on your dental insurance coverage. Fortunately, Cape Vista Dental is in-network with the majority of dental insurance plans!
If you're uninsured, you can join our dental discount plan — in-house dental discounts designed to help patients save on a wide selection of dental treatments. We also offer no-interest and low-interest monthly payment plans, including with CareCredit and Lending Club!
Want to learn more about financing your dentures treatment? Just give us a call and we'll happy to provide the answers you need!
Schedule Your Dentures Consultation at Cape Vista Dental!
Ready to find the best tooth replacement solution for your smile? Give us a call to learn more about your dentures options and receive the quality teeth replacements you need!